Danny Wilcox Frazier's book "Driftless Photographs from Iowa" is published by Duke University Press and the Center for Documentary Studies at Duke University. It was the CDS/Honickman First Book Prize in Photography. The juror was Robert Frank, who wrote the forward.
Well, who wouldn't want Robert Frank to write the forward to your first book? I would. I remember when I saw "The Americans" at the Kemper Museum in Kansas City a decade or so ago. I got chills. I liked Robert Frank before I saw the show, after it I was amazed.
The 80 pictures in this book are a testament to the fact that Robert Frank's influence is alive and well in photography. Danny also acknowledges Josef Koudelka, Nan Goldin, Larry Clark and Gilles Peress. I know Danny is in the Real Photographer camp, no question about it.
The first time I met Danny was five or six years ago in Indianapolis during the women's basketball Big 10 Tournament. Purdue played Iowa, and I think he sat next to me. He was working at one of the Iowa City papers (there are two). He was using a digital camera, I don't think I was. I had my newly purchased Leica with me, and I remember him saying something about wanting one, and I said something about always wanting to shoot basketball with it. To me, that was a real photographer sort of thing.
I bumped into him yearly, usually during a Big 10 basketball tournament.
I am glad he bought his Leica and left the paper to go to grad school, where from what I understand, this book originated.
A few years later, I followed his plan (leave paper go to grad school). Needless to say, I asked his advice and sort of followed it, but here I am telling you about his book which you should buy right now. Danny is one of the nicest guys I have met and it is clear from his pictures that breaking down barriers and coming back with the goods (flat out great pictures) is something he has a talent for. To quote Jack Kerouac: "You got eyes."
Danny has done some traveling, but this work is from his home state, which is very refreshing. In the age of the College Photographer of Year contest having an international story category, it is nice to see someone work the back 40 for all it is worth.
And work it he does. This is Iowa beyond the image of pigs, corn and politicians. Real people populate these pages. Veterans, rabble-rousers, Hasidim, farmers, Plain People, families all make an unexpected portrait of a state few truly know.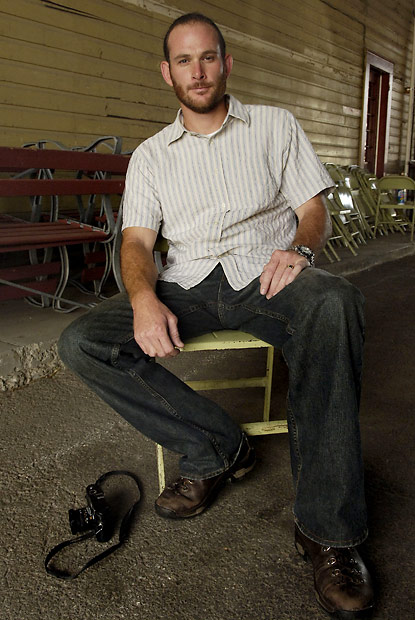 Danny Wilcox Frazier
In stark black and white images his Iowa appears on the page. Grain competes with snow and ice at times. Yes, grain, real grain, not the digital kind. The good kind, it comes from film.
Turning the pages I am struck by unexpected images. Moments come out the shadows. All the action is up close and personal. You feel the corn fly through the air while being harvested on the family farm. I hear snow crunch under the feet of hunters on their way to the killing fields. These pictures come alive.
Danny Wilcox Frazier's clarity goes beyond what may be fashionable in some journalism circles. There are no fancy tricks of composition or electronic flash. He has the clear and direct voice of an Iowan adn the eyes of a poet.